Denver Eating Guide
A little over three years ago, my then soon-to-be husband, Brett, had accepted a job in Denver after graduating from college. Having both grown up in Southern California we had two very different reactions to the move. Brett was nervous and not at all thrilled to be leaving 80 degree days, his friends, his dog, and his mother. I, on the other hand, was thrilled! Although I'm definitely a homebody, I get bored easily by my surroundings. Going to the same restaurants, stores, and experiencing yet another 95 degree day in November were things I was more than ready to leave behind for awhile. I was excited for the new scenery (the Rocky Mountains are in my top 10 most beautiful landscapes I've ever seen), the weather (hello, seasons!), and exploring a relatively tiny new city compared to LA. It took both Brett and I very little time to fall in love with Denver and we can attribute it to one thing....the FOOD.
When you think of Denver or Colorado in general, two things usually flash in your mind: Broncos and skiing. At least that's what popped up in my mind, and rightfully so! Broncos fans are no joke, I once saw a woman at the dog park with the Broncos horse head tattooed on her ENTIRE calf. *I still to this day wish I had stealthily gotten a picture as proof* And when it comes to skiing, good luck trying to get up to the mountains from December to March, because you'll spend more time on I-70 in traffic than on the slopes. Other than these two things, food was not something I expected to be particularly impressed with, especially coming from LA where there a thousands of cool and unique places to grab a bite or even just a cup of coffee. But oh man was I wrong! After living in the Mile High City for three years, I can honestly say that Denver is the most underrated foodie city in America.
In hopes to lure you to visit Denver for more than just the football and skiing, I've compiled a list of my top 5 places to eat (which was seriously hard because I could name at least 20 at the top of my head, but writing a blog post that long would probably give me carpolltunnel and be incredibly tiresome to read). Under each of the eateries I'll list one dish that Brett and I recommend, Brett has your classic guy's palette of lots of meat and anything savory while my taste fall more on the sweet side of the spectrum with fruity and fresh flavors. Hopefully this will make your mouth water and your trip planning easier!
#1 - Rioja
Rioja is by far my absolute favorite restaurant in Denver. It is the place I always choose to go on my birthday or when people come to visit. Located on Denver's iconic and beautiful Larimer Square, Rioja offers "a menu inspired by Mediterranean ingredients and influenced by local and seasonal products." I personally love the ambience with its low lighting and modern decor which makes it a crowd pleaser before you even get to the food!
Brett's Pick - Fresh Bacon (offered all year round)
Logan's Pick - King Salmon (offered seasonally, but all their fish dishes are incredible) and Beignets (yummm!)
Rioja Address - 1431 Larimer Street
#2 - Shanahan's Steakhouse
If there is one thing Colorado is good at it's steaks. Steakhouses are pretty easy to come by here and you most likely won't be disappointed at any of them, but Shanahan's Steakhouse exceeds them all for us. It has a classic steakhouse menu with a modern twist in decor and flavors. While on the pricey side, its a must try!
Brett's Pick - Prime New York Strip with Brandy Peppercorn Sauce or Chimichurri and Hoisin Glazed Brussels Sprouts (if you don't like brussels sprouts you will after these)
Logan's Pick - Filet Mignon with Truffle Butter (I want to bathe in this butter) and French Onion Soup
Shanahan's Steakhouse Address - 5085 South Syracuse Street
#3 - Little Man Ice Cream
Little Man Ice Cream sells the best unique homemade ice cream flavors and other frozen treats from their iconic building-size milk jug that brings both tourists and locals lining up 16th Street in Denver's Highlands neighborhood. Don't let the line scare you away, but instead give you affirmation that you're in just the right place. With over 30 flavors, 9 vegan options, and a rotating seasonal flavor list like Pumpkin Chip and Egg Nog, there is something for everyone! And don't worry, passing the time in line will be easy because Little Man offers lots of entertainment like live bands, movies, and a spectacular view of downtown Denver.
Brett's Pick - Vanilla (yes, you read that correctly)
Logan's Pick - Salted Oreo and Salted Caramel PB Cup
Little Man Ice Cream's Address - 2620 16th Street
#4 - snooze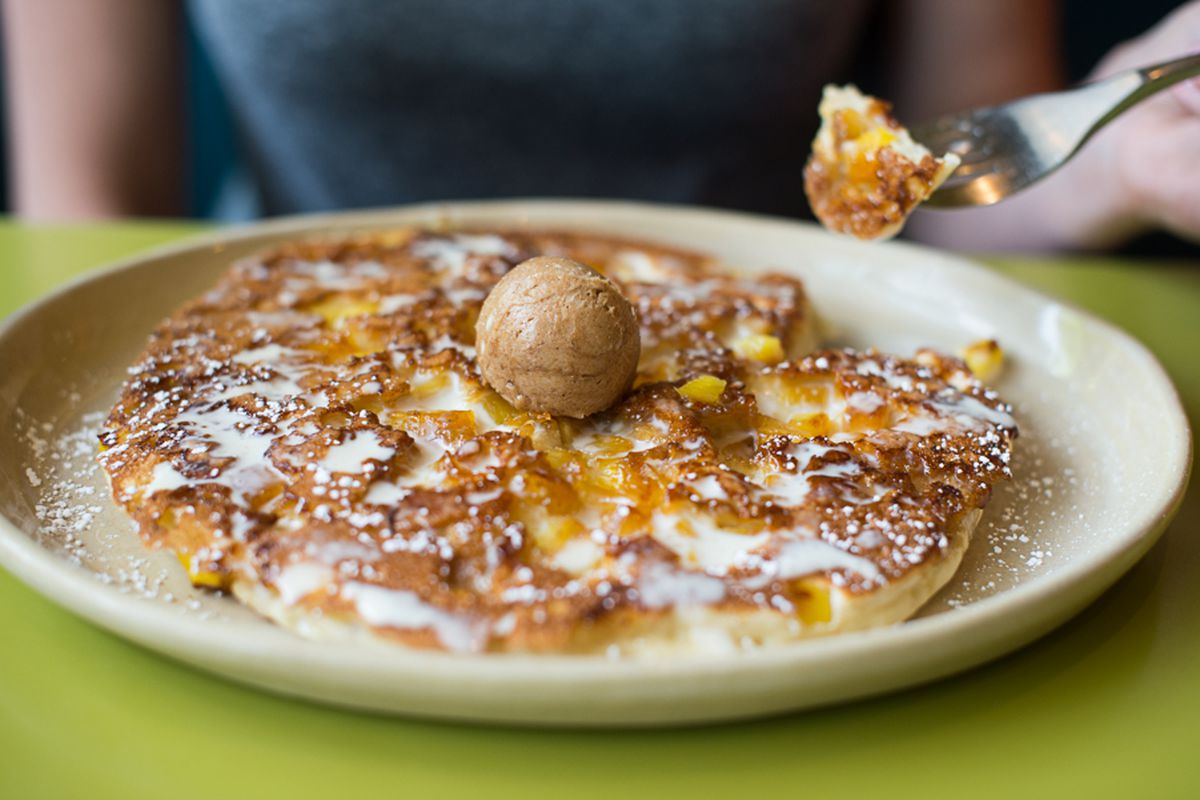 I wanted to only include Denver-specific restaurants on my eating guide, but I had to make an exception with Snooze. I justified my choice because Snooze was founded in Colorado, but now also offers locations in California, Arizona, and Texas, so if you're in any of those four states GO immediately, you won't regret it. Snooze is a breakfast must try and every item on the menu is amazing from their unique eggs Benedict dishes to their award winning pancakes. There are 8 locations in Colorado making it pretty easy to find one wherever you are visiting but our personal favorite and location we take EVERY visitor is at Union Station. Even if it's a drive please pinky promise me you'll go!
Brett's Pick - Snooze Breakfast Burrito
Logan's Pick - Juan's Breakfast Tacos with Bacon and PB Cup Pancake (one pancake is enough for the whole table to share)
Snooze's Union Station Address - 1701 Wyncoop Street, find the other locations here
#5 - Cholon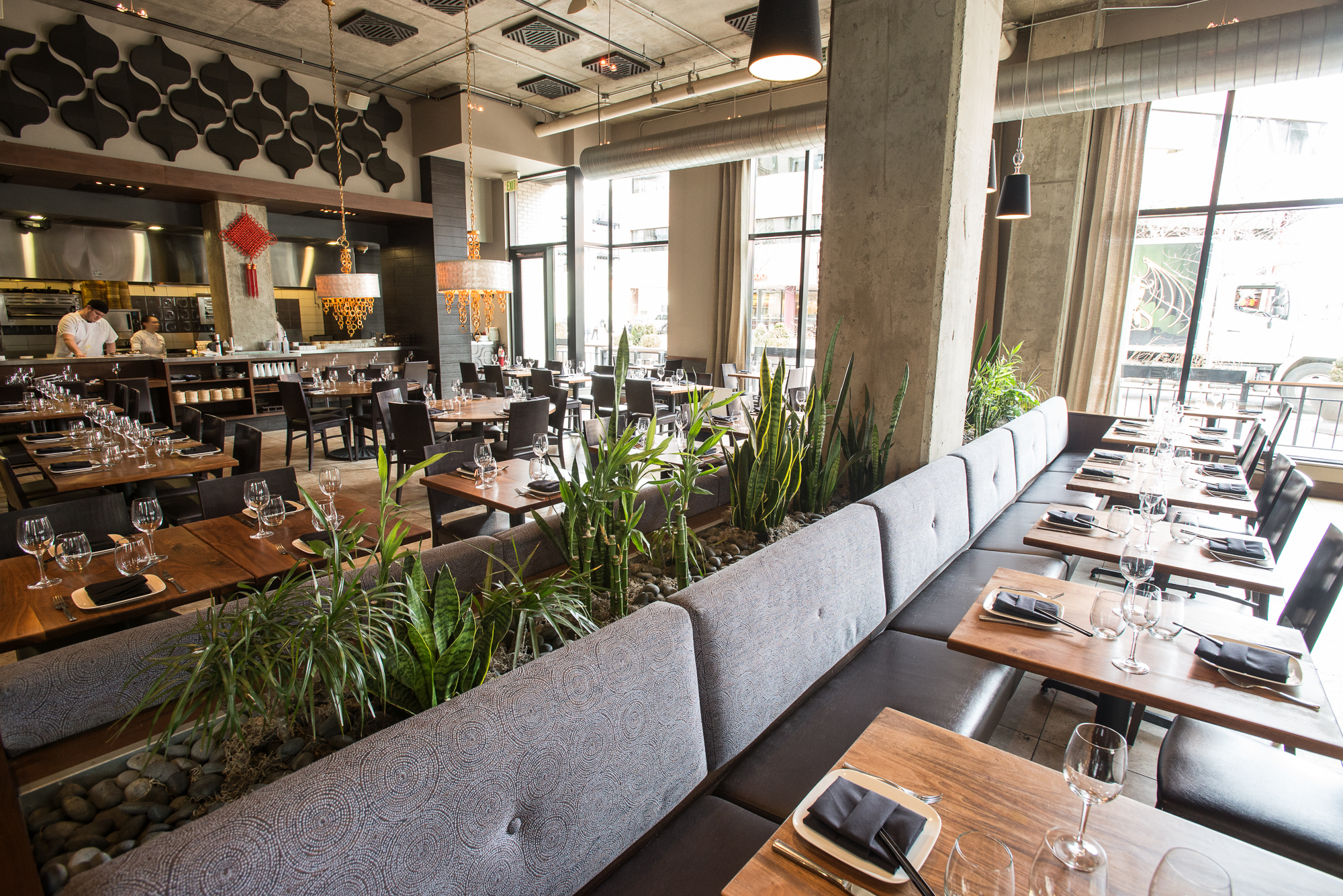 Cholon is one of Denver's best restaurants and has made 5280 Magazine's 25 Best Restaurants issue every year since it's opening in 2010. Not sure why it took us so long to try, but even now writing this post I want to make a reservation for tonight! Cholon offers classic asian cuisine with a new modern twist. You will no doubt want to eat there again and again, but make sure you make a reservation and when you do ask to sit by the kitchen for the most unique dining experience.
Brett's Pick - Wagyu Beef Skewers, anything "From the Wok", and Spiced Doughnuts
Logan's Pick - Pork Belly Buns (trust me when I say to ask for two orders!)
Cholon's Address - 1555 Blake Street, Suite 101
Narrowing down all our favorite restaurants to just five was a struggle! If you've been to Denver or are a local let me know what your favorite restaurants are and if you want even more recommendations, ask away in the comment section. Happy eating!
*all photos were soured from Google