My Six Go-To Skincare Products for Flying
We've entered May, which means we are all jonesing for a vacation...and soon. In fact I just finished booking a weekend trip to San Fran to get away with the mister, and even though it's not until July (lol) I'm stoked. If you've booked a trip and are heading to the airport soon, you've come to the right place. Today, I'm breaking down my favorite skincare products I take with me on a plane to help keep my skin from becoming as dry as the Sahara and help relax my anxiety-riddled body and mind.
The number one reason we always feel so gross getting off a plane is due to the recycled air and low humidity. Without an influx of new air at a normal humidity percentage the moisture in our skin is quickly zapped and we start to feel dehydrated. When our skin is dehydrated one of two things happen: 1. Our skin (face and body) gets tight, dry and red or 2. Our skin overcompensates for the lack of moisture by producing oil. Both options are not ideal, so whatever our skin type is, it is ESSENTIAL to keep our body's inside and out as hydrated as possible. While this post will focus on the products to use to keep the outside of your body hydrated always remember the inside is most important. It's recommended to drink at least 8 oz of water for every hour you're on the plane, and if you're drinking or going to a higher altitude designation make it more! I know you don't want to be that person who has to pee every 45 minutes, but your seat mate's annoyance will dissipate the second they see how much better you look than them by the end of the flight (unless you're sitting by like Heidi Klum, but if you're sitting next to Heidi Klum it sounds like you're doing just fine in life and probably aren't reading this post to begin with).
Summer Fridays Jet Lag Mask
If there is one thing to bring on a flight it is this product. I mean it's called Jet Lag for reason! I wrote a full review on this product here and it's still one of my favorite things to use multiple times a week. The best part about this mask is it's transparent when smoothed on the skin and you don't need to rinse it off! You can mask in secret and end your flight with an awesome glow.
Weleda Skin Food is a cult favorite among makeup artists, celebs, and frequent travelers. If you suffer from dry skin at whatever elevation you need to adopt this product into your daily routine. Skin Food's thick and creamy formula hydrates the skin for hours! But be warned it is a bit greasy for the first few minutes. I like to use this on my hands on planes and every night before bed to keep my chronically dry appendages feel less reptilian (super hot, right?).
Laneige Lip Sleeping Mask
I like to think of this as the Jet Lag Mask for your lips. I've been using up a sample of this mask and the second it runs out I'm buying the full size ASAP! It's very smooth and glossy (not sticky, though!) and adds a soft pink tint to the lips while leaving them extremely hydrated. I wear this day and night and my lips have improved dramatically. Looking for a finger-free and cheaper option? Try this!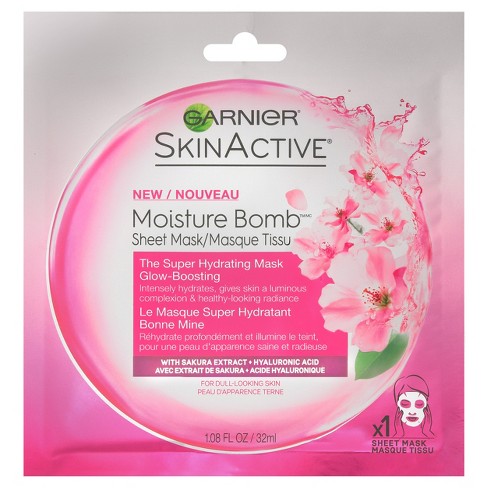 Garnier SkinActive Moisture Bomb Sheet Mask
If you're brave enough to wear a sheet mask on a plane this one if my absolute favorite! It's super hydrating, cheap (yay!), and doesn't slide around (which to me is it's biggest selling point). For the ultimate hydration situation I like to wear this for 20-30 minutes, pat the excess into my skin after I take it off, and then add a pearl sized amount of Jet Lag Mask. Bye bye dryness!
Wilma Schumann Hydrating Collagen Eye Pads
If puffiness is your airline burden, collagen eye pads are going to be your new favorite thing. I have gone through multiple packs of these (I've got a new pack coming in the mail tomorrow!). I love that they are really saturated, leave a cool and tingly feeling under the eyes, and the packaging is small enough to keep in your purse. Also these are a lot less weird looking than a sheet mask!
A true classic. Evian facial sprays are so useful to always have on hand! They are perfect for hot summer days when you just need a shot of refreshment, to help revive tired looking skin and makeup, and ideal for air travel at the beginning and end of your flight. Sephora sells a really great three pack of the travel sizes so you can have on in the car, purse, and your carry-on!
Those my friends are my six essential in-flight skincare products to always have on hand. Also, in terms of a skincare routine on the flight, I recommend coming makeup free so you can luxuriate the second you get on the plane instead of relying on makeup wipes to effectively remove all your makeup. If you're not keen on going to the airport makeup free, ditch the pre-packaged wipes and bring along a baggy of cotton rounds pre-soaked in micellar water (these two are my favorite: #1 and #2). They will do a much more effective job at removing the makeup and dirt on your skin and they will save a lot more space in your purse, which is already burdened with carrying your phone, wallet, charger, at least 3 trashy magazines, a new book, and a sudoku puzzle.
I hope all your travels this summer are full of adventure and great skin! Also, let me know if you have airplane secret weapons I need to know about.