Thoughts on Sustainability and Five Brands Who Are Doing It Right
Sustainability. A buzz word that seems to be picking up steam every day, especially in the fashion industry, which currently is one of it's worst offenders. Did you know that the fashion industry is the second largest contributor to environmental damage? In a world of fast fashion and high volume production, it's not hard to see why this is true. In the past few months being more conscious of the environment has been on my mind more prominently than ever before. Of course when you say you're trying to be more eco-friendly usually this entices many eye rolls, but having a greener concious overall doesn't mean you're going to move to a commune, go vegan, or try and fit all your waste into a mason jar (yes that's a thing). Instead it can mean being more aware of your recycling practices (it's not just for soda cans!), creating lifestyle changes that create less waste of materials and resources (do you really need another black cardigan or keep your toothbrush charger plugged in 24/7?), and spending money on brands who put sustainability first. Think of your money as you do voting, when you give your money to a brand that is transparent with how they produce and distribute their products, you're empowering them to continue to do so and make further advances to become even more sustainable. It's a win win situation!
Now often times when a brand says it's sustainable, you can immediately associate this with EXPENSIVE; and while sometimes this is true, it doesn't always have to be. The costs of goods usually comes down to their manufacturing process and labor, which can be more expensive when brands only use factories that adhere to a higher standard of labor and green practices like using only recycled water, solar energy, etc. And them of course the materials of the product matter too, items made of cotton will obviously be less labor intensive and expensive than items made from silk. But I think you get it now. One final thing I'll say before sharing five brands who I believe do sustainability right, is to do your research! Just because a brand calls itself sustainable or "green" doesn't mean anything unless they show it. There is no national organization that regulates green initiatives like the USDA does for organic foods. Real sustainable companies will have a whole page or more on their site hashing out all the details on why and how they are environmentally conscious. If you can't find said page, leave immediately! No one wants or needs companies who falsely claim anything, so don't give them your votes (a.k.a. money!).
*Tip: Hover over the images to see what they are, price, and a little caption from me! Also, you can click on the images to be taken to their product page.*
Everlane's objective is to create beautiful and classic basics while being radically transparent. Of all the brands I have purchased from and/or researched for sustainability, Everlane is my favorite. Their products are high quality at reasonable price points, their customer service is stellar, and their effort to continue becoming more and more sustainable is commendable. Out of all conscious brands, they are the most transparent, showing you exactly what labor costs are and why they don't mark up product like traditional retail. My favorite products that I have purchased are the High Rise Skinny Jean (I have them in both regular length and ankle and refer to them as my "good butt" jeans) and the Modern Babo in Blush. I'm eyeing up their dreamy cashmere and new Clean Silk products for fall!
Reformation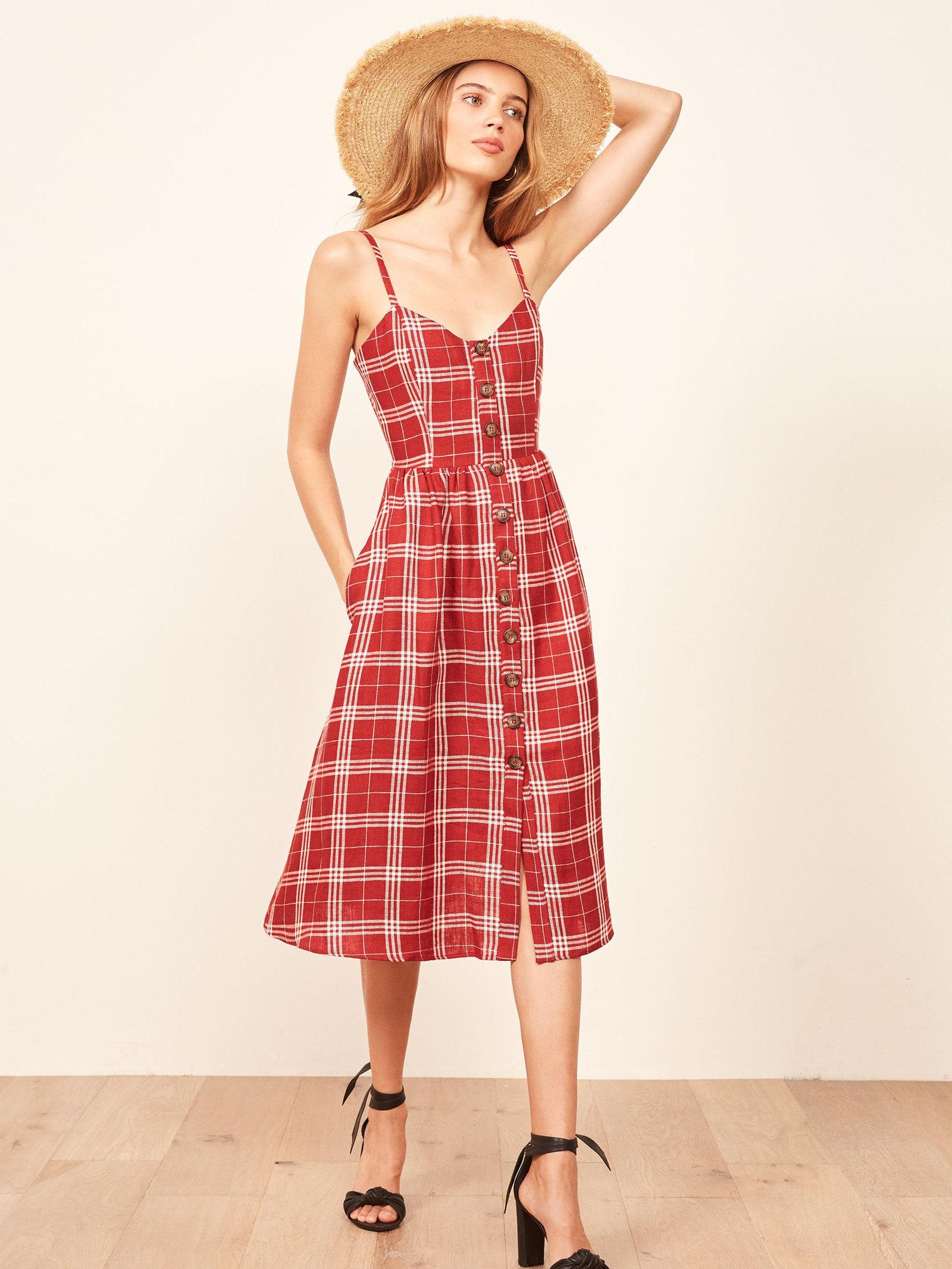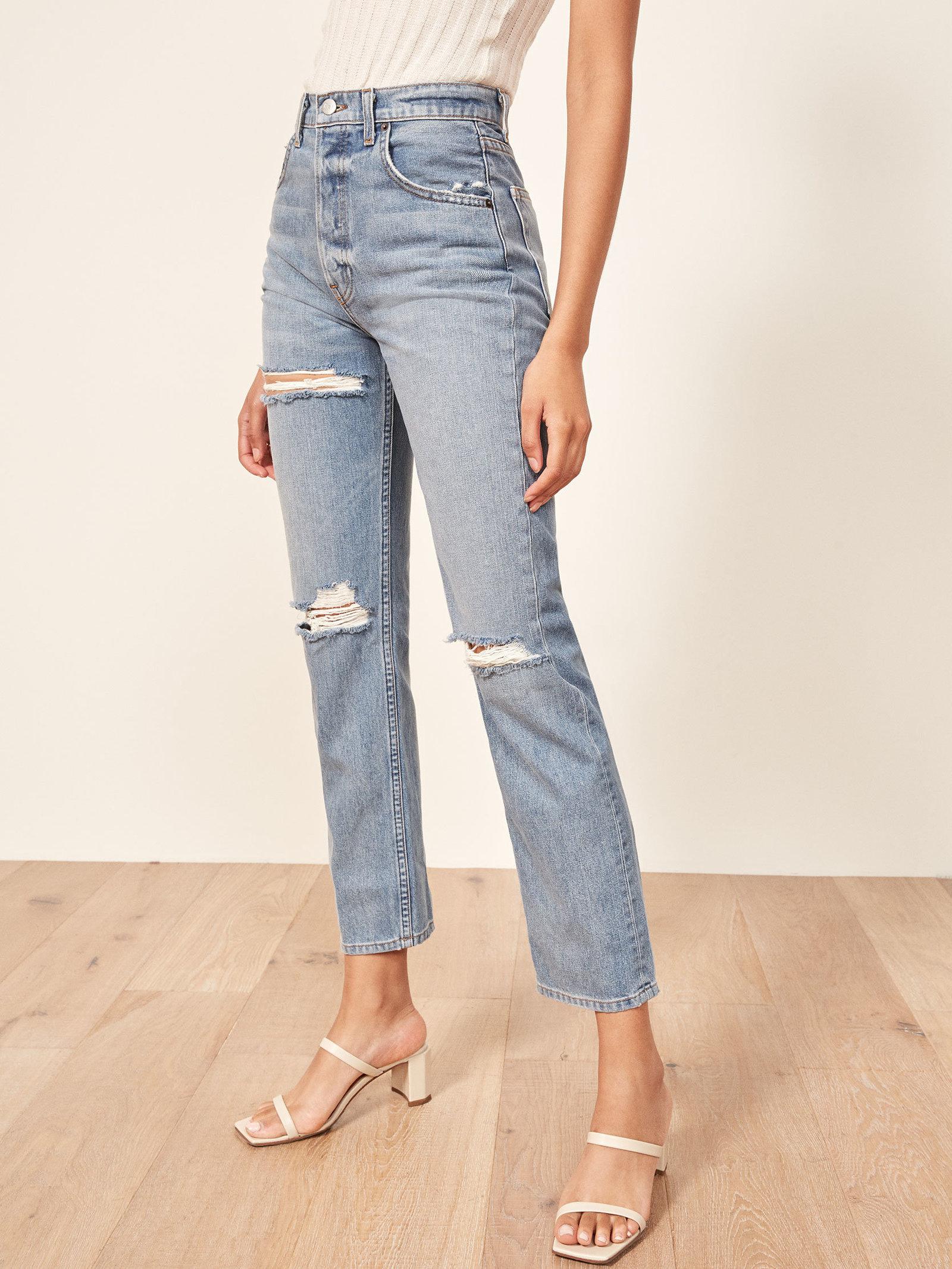 Not only does Reformation put sustainability first but they also nail all things feminine. Their silhouettes are stunning and often feel a bit Parisian to me, and who doesn't want to look Parisian? They also release a small limited collection every week so that you can feel unique in what you buy. If you wondering how they stay green, this page on their website lays out their philosophy and how they go about being green in an industry that's not. I have yet to shop from the brand, but I have my eyes on all the above! One of my style resolutions for the year was to wear more dresses and I have effectively failed, so maybe that means I need to finally make a purchase! Note: They just became stocked at Nordstrom, so if you want to take advantage of your Nordstrom rewards, shop the brand there!
Matt & Nat is a vegan leather company that makes beautiful and unique high quality bags and shoes. I've seen their bags before and they are impeccable in both design and quality. Like Everlane they are incredibly transparent and have multiple pages on their website dedicated to their perseverance to sustainability. I am drooling over the belt bag featured above. I'm all about that chic fanny pack life.
SiiZu
SiiZu is a new brand to me that I found researching sustainable companies and I instantly fell in love with their products. I highly recommend you give them a browse and a follow on Instagram. I love that they put their philosophy, factories, and fabrics right on their main navigation of their site. Companies should never be shy to share how they are trying to change the fashion industry. Not only are they ethical in their manufacturing, but their also philanthropic by donating 10% of their profits to plant new trees! Like Everlane, SiiZu doesn't mark up their products because they are direct to consumer; so that means we get amazing sustainable fashion at an amazing price.
The last and probably my new favorite brand I'm sharing with you is Vetta. Vetta is a sustainable capsule wardrobe company. They release mini capsule collections of 5 items that can be worn in multiple different ways and create over a month's worth of outfits. Yes a WHOLE month's worth of outfits with just five items!! Their designs are so beautiful and timeless. I love that their tops can be transformed into so many different styles that you wouldn't even be able to tell it was the same exact top! You can buy the entire capsule at a discount or any item you want by itself. Such a genius concept and brand. I am so excited to shop from them! That jumpsuit is calling my name.
I'd love to know your thoughts on sustainability, specifically when it come to fashion. From all the research I have done for this post I am just in shock with how much destruction retailers are causing. They say knowledge is power, and it really is!! I don't think I'll be able to buy any new item the same after this post and I'm also so excited to have found new to me brands that create incredible products with a thoughtful concious. To me, it's easy to spend money with companies that care. If you know any other companies that are sustainable, let me know below.