February Book Review
February was a blur. What was only a week-long cruise felt like 38,570,234 years (not complaining, very grateful for the vacation and tan) and like all long vacations the week or two after are almost always a complete wash. You wake up in a haze, not quite sure what day it is, you have a million and one things to do and zero motivation to do them because you got really used to laying by a pool and stuffing your face with pizza all day. I had only one book completed before we left Feb 7th and I brought two others for the cruise because I thought I was going to be in relaxation heave, but I quickly learned that reading on a cruise is impossible, or at least it is for me. I get motion-sickness very easily and thankfully I never did feel seasick, but for whatever reason reading did make my eyes, brain, and stomach spin a little. So instead of books I opted for podcasts, SPF 50, and strawberry daiquiris — like I said, NOT COMPLAINING AT ALL.
Finally when we reached sweet sweet land and the much nicer than expected American Airlines lounge (totally worth the $50 day pass when you have to sit at the airport for 10 hours — they have snacks and food galore and even a made to order guacamole station!), I finally pulled out a book and subsequently finished it on the 6 hour flight from Miami to LA. To the lady sitting next to me, I'm really sorry my overhead light sorta kind of blasted half of your face the entire night, but the book I was bored with actually got kind of good and I needed to finish! I had two more books I wanted to read before the month was up, so of course I left them until the 26th of February (this is the zero motivation after vacation I'm talking about people!!). Sometimes procrastination is the best motivator and I stuck my nose into the books HARD and completed them all before March (okay to be honest I finished the last book on March 1st at 12:27am, but that still counts right?)!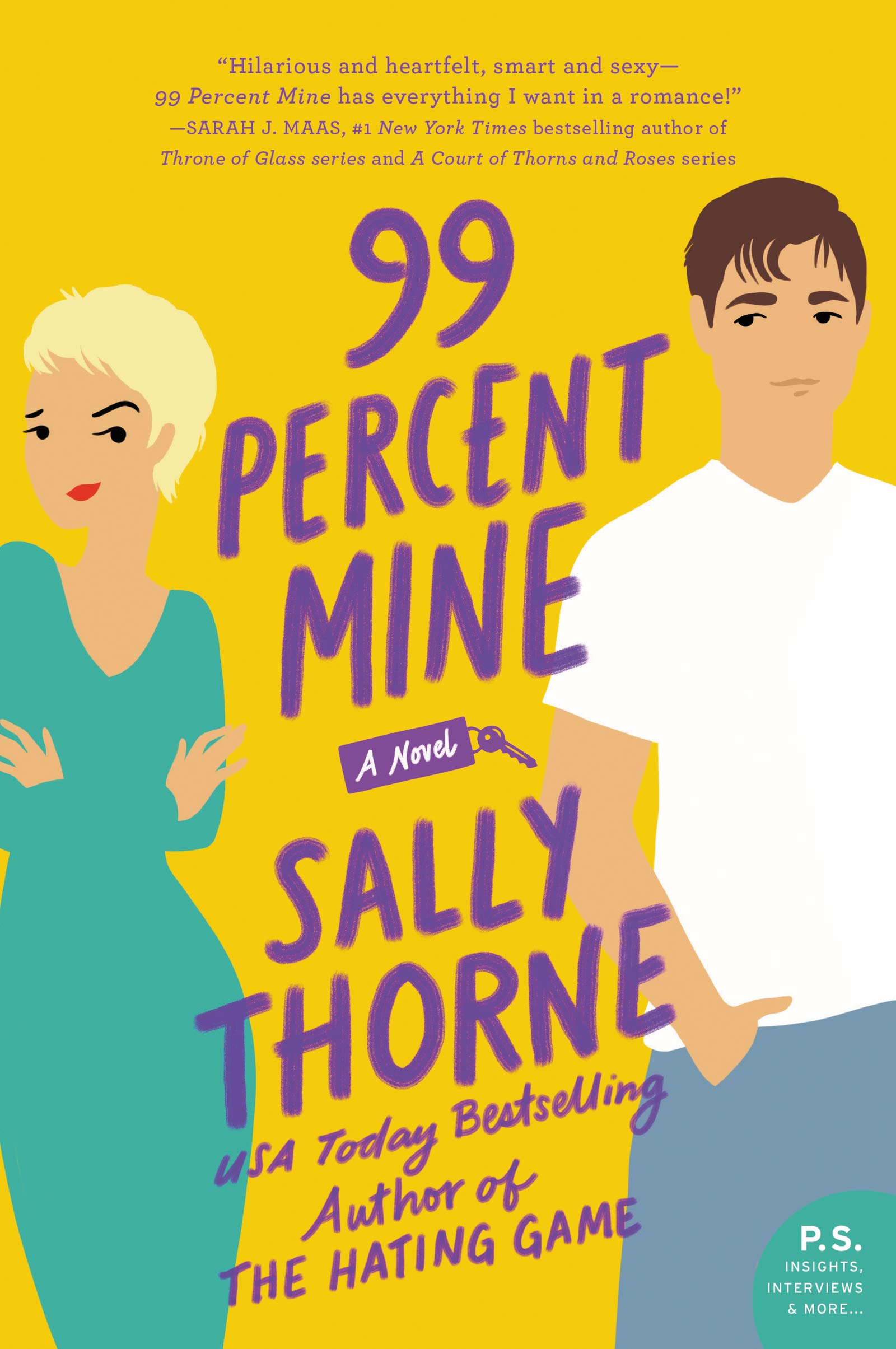 99 Percent Mine by Sally Thorne
Bad on Paper Podcast Book of the Month
Rating: 2/5
99 Percent Mine is narrated by its main character, Darcy, a rebellious ex-professional photographer who is notorious for running away from her problems. But when her passport is misplaced and her grandmother's house, which she inherited with her twin brother Jamie, needs renovating, she stay put. Firstly, to make sure her brother doesn't ruin the charm of the home, and secondly, because her life long crush and childhood neighbor, Tom, is the contractor. Tom and Darcy have always loved each other since youth and he even once told her his feelings when they were 18, which then Darcy responded by running to Italy the next day. But now that he's back in close proximity and newly single, maybe this is her second shot. This book is a quick read and entertaining, but the problem was that I didn't like Darcy. She's VERRY crude and aggressively. It also took A LOOONNGGG time (like 200 pages long) to get the romance to culminate, which to me is the best part and the reason I read a romance novel. Lastly, the ending is also very anti-climatic which is the worst unless there is a sequel. I had high hopes for the book because Sally Thorne's first book, The Hating Game, is RAVED about (haven't read it). It seems to me this was a classic "publishing house pushes bestselling author to release second book ASAP which then makes author scramble with sub-par plot."
Is it a must read? No, but I am curious to see what The Hating Game is like, but I'm going to go in with lower expectations. If you want a good brain-candy romance novel, try out Jasmine Guillory's books!
Winter in Paradise by Elin Hilderbrand
Rating: 3.5/5
Winter in Paradise is the first in a new trilogy by beloved author Elin Hilderbrand. Irene Steele, a lonely wife and now ex-editor in chief of a Country Living-like magazine receives a phone call New Year's night that her husband Russ has been killed in a helicopter accident with a woman….in St. John. With very little information her and her two adult sons head to the island to collect the body and find answers. What they find out immediately is that their faithful father (or so they thought) was leading an entirely secret life on the island with a local woman. The story follows Irene's processing of deceit and loss, the two son's damaged image of their father and their own personal life nightmares, and 2 local islanders who were step-father and best friend to Russ' mistress. There are a lot of secrets, a lot of questions, and ends on whodunnit cliffhanger that is signature to Hilderbrand's books. This book to awhile to get into. This is my second book to read by the author and I've found that I just don't love her writing style. Her plots are intricate and interesting and an entertaining read, but I'm not sure I'm a Elin Hilderbrand-devotee.
Is it a must read? Unless you are a faithful follower of her books, I'd skip. I liked her other novel, The Perfect Couple, better.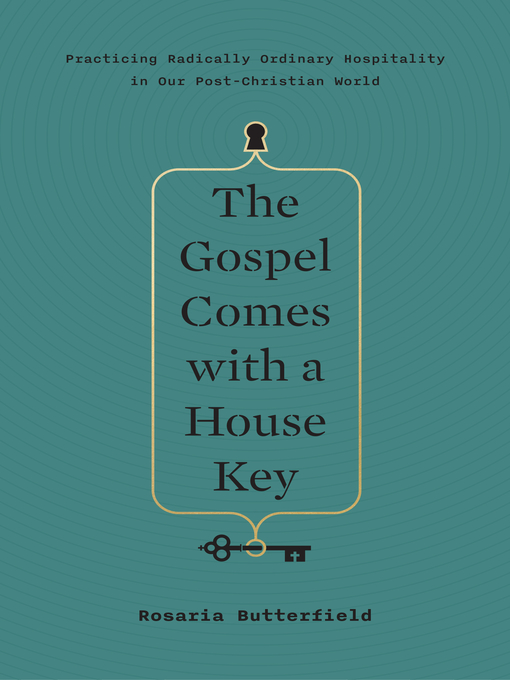 The Gospel Comes with a House Key by Rosaria Butterfield
Personal Book Club Pick of the Month
Rating: 5/5
Rosaria Butterfield is a well-known name in the Christian community. She is most known for her testimony of coming to Christ when she was a lesbian and professor of English and Women's Studies at Syracuse University. Post-salvation she became a speaker, author, pastor's wife, and mother. This book focuses on the current lack of hospitality to strangers and its importance in playing a role in people's live physically, emotionally, and spiritually. She speaks on hospitality through anecdotes of her life pre and post salvation giving scriptural evidence for every thought on the subject. This is not a how-to to be hospitable book with chapters on 5 ways to love your neighbor, ect. This books focuses on the calling Christians have to be hospitable with their time, money, and home because we are ambassadors for Christ and nothing we have is our own. I highly recommend this book for anyone, single or married, young or old. This book will convict you from the get-go in the best way! One note: When reading reviews online some thought she was using her life as a way to show how great at hospitality to she is, but I assure you that is not her motive. She is passionate about hospitality and works hard for it daily because of her love for Christ. I'm grateful to have read stories from throughout her life that have show me practically how hospitality changes lives.
Is it a must read? Yes!! Christians are always quick to "fellowship" with other Christians but not so quick to do so with their unbelieving neighbors and coworkers or as least not as openly. This shows practical ways to show the world who Christ is and not in a "holier than thou" way.
An Edited Life by Anna Newton
Rating: 4.5/5
The final book this month (the one I didn't technically finish in February lol) is written by my favorite British beauty blogger and Youtuber, Anna Newton or The Anna Edit as she's known across the internet. Anna manages a minimalist-esque lifestyle while still being 100% relatable, which is a breath of fresh for anyone who is so over the minimalism trend. Her journey to living with less started with my #1 organization queen, Marie Kondo. But the difference between Anna's book and Marie's book is that Anna touches every bit of life, not just our items. There are three sections. First, "Life" where she breaks down budgeting, scheduling, and self-care. Second, "Work" helping you strategize a way to finally get your inbox to 0 (or at least two digits), how to blast through procrastination, and also how to get stuff done when you are self-employed and stay in your pjs most of the day. Third, she ends the book with "Home." She explains how to create a capsule wardrobe which she is known for (and not in a rigid - 37 pieces only type of way), creating a cleaning schedule, and how best to tackle decluttering without being stressed. This book isn't life changing, especially if you are naturally an organized person, but it is very thorough and written in Anna's signature wit and frequent Ryan Gosling mentions, which I personally love and intensely identify with. It's a fun read and beautiful book (except for the writing is already missing on my spine and I've only had the book for a week.)
Is it a must read? Not particularly but I'd recommend it if you are someone easily overwhelmed with life, work, and home.
And there we have it, four books in February making the year total so far, seven!! Woohoo! After reading those last two books in two days and in not so great light my eyes are in need of a serious snooze and an eye exam which I've already scheduled for next Tuesday. Anna would be so proud.