Full Coverage Concealer Competition: Tarte Shape Tape vs. E.L.F. 16 Hour Camo vs. Estée Lauder Double Wear Instant Fix
So I guess turning 25 means your under eyes become dark hollow abysses that no amount of sleep or water can fix. Fun. If only I had appreciated the years of waking up fresh and doe-eyed and without the need of concealer I would have documented it daily and set it to a slideshow "In Memoriam" awards shows style, but like they say, hindsight is 20/20. Embarking on this next quarter of my life my number one priority is finding a concealer that brightens, hydrates, and lasts all day. A very tall order, but with a web browser open and credit card number memorized, I was very much up for the challenge.
My usual product review posts stick to two almost identical products, one high end and one drugstore, and I put them to the test and let you know who the winner is. I was prepared to challenge Tarte's best-selling full coverage concealer Shape Tape, and e.l.f.'s newest concealer (a Shape Tape dupe) 16 Hour Camo Concealer. But as I was in the midst of my daily beauty research I read an article about Esteé Lauder's Double Wear Instant Fix Concealer. Every thing the article said was exactly what I wanted in a concealer, so I added it to my cart and decided to test it against the first two for the ultimate full coverage concealer competition (try and say that five times fast!).
I've given all three a proper test on their own, against one another on the same face, and on both under eyes and blemishes. Each was applied the same way: the classic triangle technique, blended in with a BeautyBlender first and then fingers, and then set with Laura Mercier Translucent Setting Powder. Now before I get into the nitty gritty of each product I want to make something very clear…. Most women's main concern with concealer is creasing. I hate to tell you this, but if you have lines under you eyes you will crease, no matter how you prep or how good the product is, any and every product will settle into lines. Unless you have naturally completely flat under eyes (lucky you) creaseless concealer will never become a reality. So instead of trying to find the unicorn of concealers that doesn't crease, instead we want to find concealers that don't exaggerate our lines (i.e. become dry, fade or move around throughout the day, ect). Now before you throw your phone or desktop across the room because of this very sad truth, I promise by the end of this post I will have revealed the perfect under eye concealer. So keep reading people. There is hope!
What it claims? "Full coverage with flawless matte finish. Creamy, easy-to-blend won't flake or crease. Helps illuminate skin for a lifted effect."
Pros: They have 30 shades available to ensure a perfect match, down to the undertone of your skin. I wore 22N Light Neutral. The large doe-foot applicator allowed for large area concealing quickly (but made detail concealing, blemishes, harder)! While it did crease in the line under my eye, it did not exaggerate or move around throughout the day. Yay! And it delivered on the "lifted effect" it claimed!
Cons: My under eye definitely looked dry before and after powder. On one of the test days I applied my makeup a few hours after my skincare and it was much harder to blend and started to streak across my cheekbone and looked patchy. I had to completely remove it, apply moisturizer again, and then went in with a reapplication for it to perform like it had before. Because of this I worry that anyone with very dry skin will find this too dry for any use at all.
Rating: 3/5
Parting thoughts: I see why this is America's #1 selling concealer, but it still didn't hydrate enough for me, which is my first priority.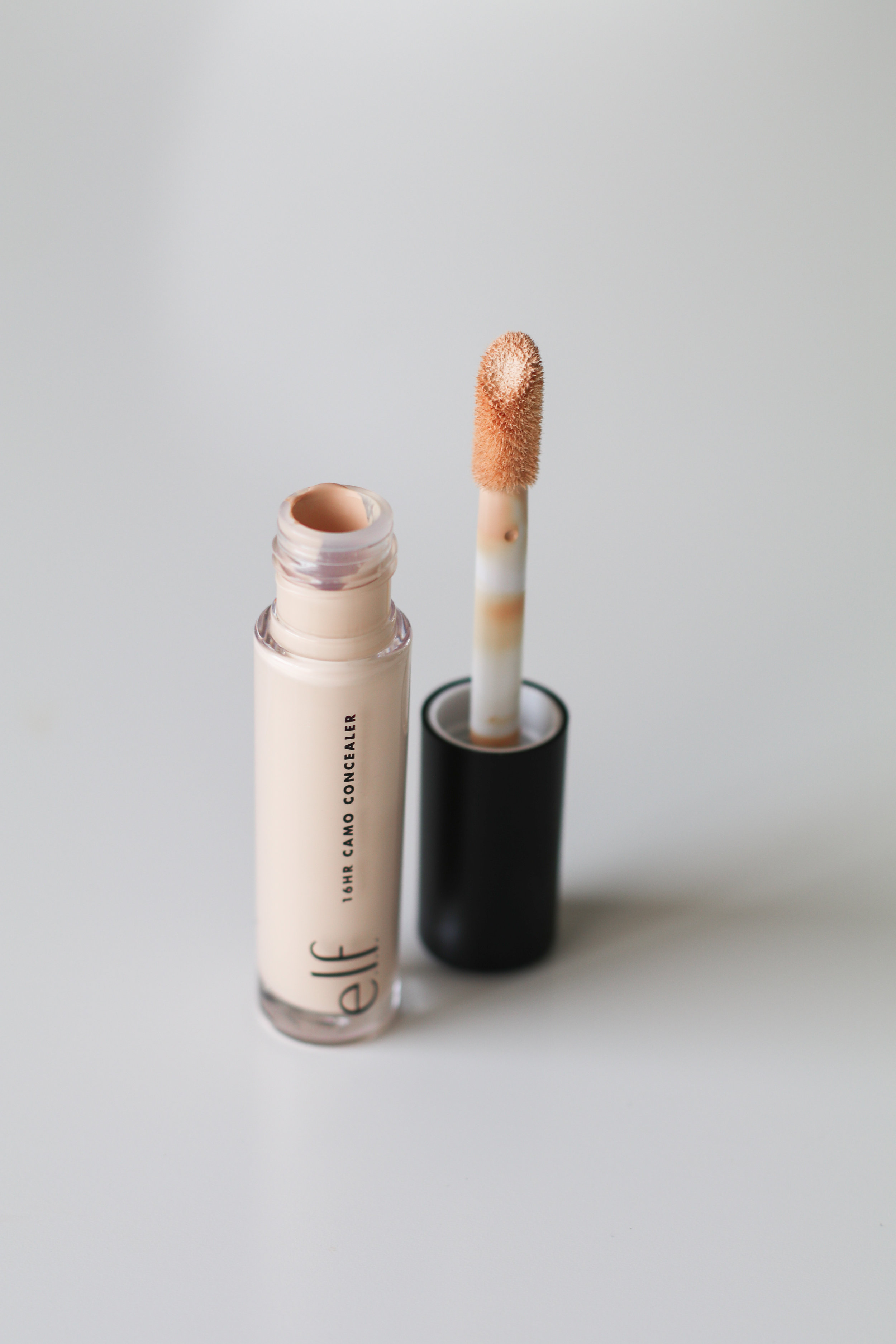 What it claims? "The highly pigmented formula is lightweight, dries matte and won't settle into fine lines or creases."
Pros: Price! At $5, this concealer is a steal! Modeled after Shape Tape, the concealer also has a large doe-foot applicator for large area concealing. I agree that it is lightweight and highly pigmented. If you are looking for a cheaper alternative to Shape Tape, this really is your best choice and it's why I gave it the same rating.
Cons: Shade selection is small and a little off. I had to order 3 shades before finding my match (Light Sand). The lighter shades are are a lot lighter in person. But, some reviewers said they noticed oxidation, which means it got darker the longer they wore it, but I did not experience that. Blending with a BeautyBlender did not work well at all. The sponge picked up the product and left a splotchy mess. Fingers are the best option for blending. Like Shape Tape I did find it dry before and after setting with powder.
Rating: 3/5
Parting thoughts: This is a great Shape Tape dupe with the small caveats of harder shade matching and blending problems, but I could forgive that for the awesome price!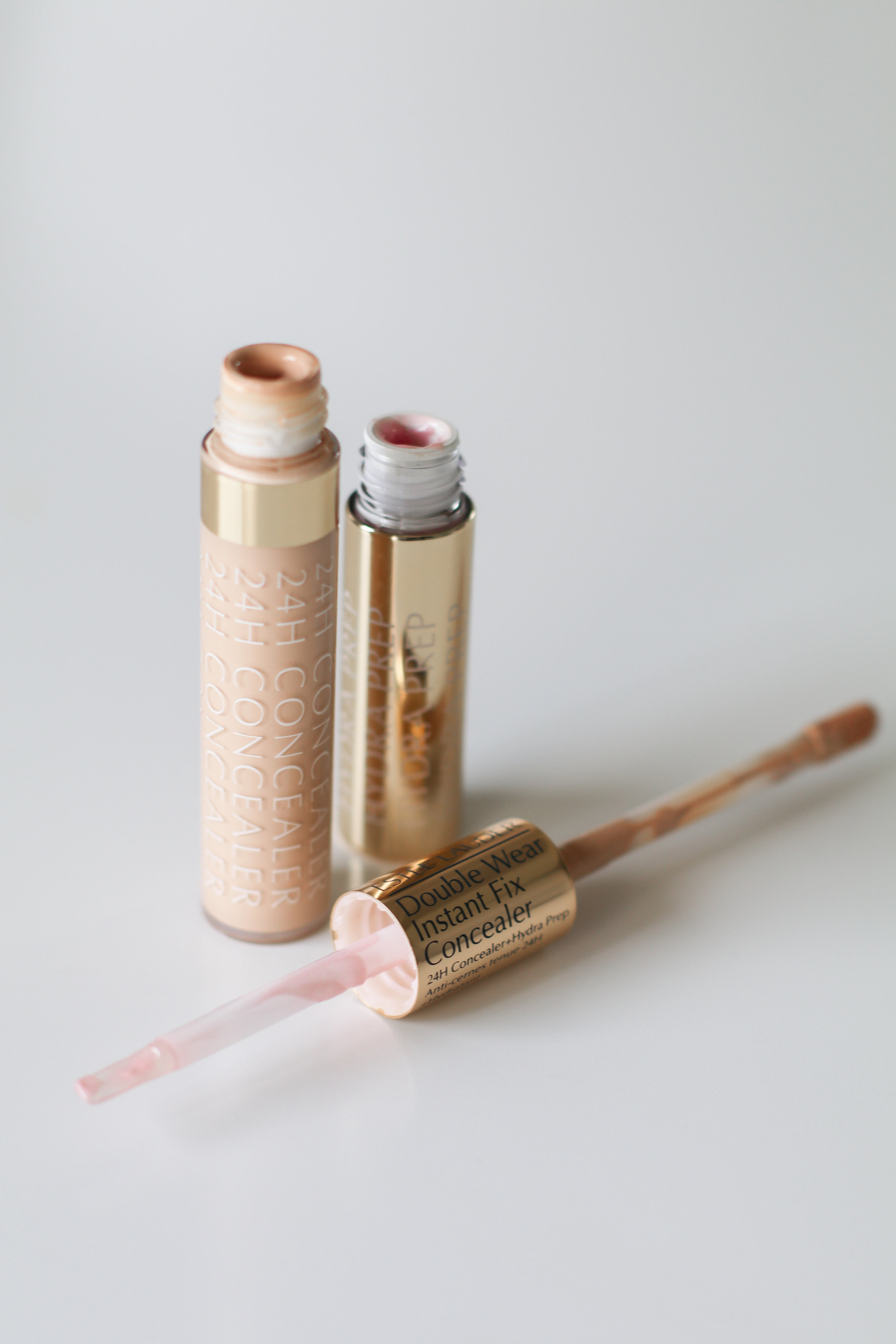 What it claims? "Hydra Prep serum for an instant hit of hydration helps smooth fine dry lines and let's concealer glide smoothly and blend seamlessly. Natural satin matte finish with medium-to-full buildable coverage."
Pro: The Hydra Prep serum is the ultimate concealer game changer. You only need a light layer, blended in with your finger, before applying concealer on top. It really does smooth your fine lines to disguise them as best as possible and then keeps the concealer looking fresh, even after powder! I loved the satin matte finish because it NEVER looked dry. The Hydra Prep serum also worked flawlessly on top of blemishes to help keep them from looking scaley, which every covered blemish ends up looking like. I couldn't stop looking at my under eyes and how great they looked all day, even on its own without foundation.
Cons: I honestly do not have a con. I am over the moon that I finally found a concealer that delivers exactly what I want.
Rating: 5/5
Parting thoughts: It is THE perfect concealer for both under eyes and blemishes. It will make you look bright and awake and while yes, you will still crease, it will be much more minimal than any other matte concealer and won't ever look dry and crepe-y. Cue the "Hallelujah" chorus!
I still can't believe I finally found my perfect concealer. I honestly never thought it was possible to find one that didn't dry up and age me 10 years or be so light coverage it barely did anything. I wish I could say the $5 concealer was the best of the bunch, but unfortunately sometimes the higher end items have merit in their price. In hindsight I wish I would have tried out the Hydra Prep serum with other concealers to see if that was where the magic was held, but I guess I'll have to do that another time. If you do try out this concealer, and I reallllly think you should, just go in cautiously with the serum. A little goes a long way and you want to blend it in and let it absorb a bit before going in with the concealer. It may take some time for you to find the perfect application routine but once you find it I promise you'll fall in love with the results as fast as I did. Seriously, I kept stopping in every mirror I passed to marvel at my perfectly concealed abysses.
Do you have a perfect concealer? I want to know in the comments below!